About Lighting Science Group Corporation

Companies

Lighting Science Group Corporation
Address:

1227 S. Patrick Drive BLDG 2A

City, state:

Postal code:

32937

show map

Country:

Phone:

Fax:

URL:

http://www.lsgc.com

Email:

infolsgc.com

Type:

Manufacturer
Lighting Science Group Corporation innovates, designs, manufactures and markets LED lighting solutions for professional and consumer applications that are environmentally friendlier and less costly to operate than traditional lighting products. The Company's patented and patent-pending designs in power management, thermal management, light engines, controls and micro-electronics are engineered to enhance lighting performance, reduce energy consumption, lower maintenance costs and eliminate the use of hazardous materials. The company is at the forefront of global LED research and product development and designs and manufactures ready-to-use LED lamps and luminaires, as well as provides customized lighting solutions for architectural and artistic projects. Lighting Science has offices in Westampton, New Jersey; Sacramento, California; Satellite Beach, Florida; Dallas, Texas; Tokyo, Japan; Goes, The Netherlands; Buckinghamshire, England; and Sydney, Australia.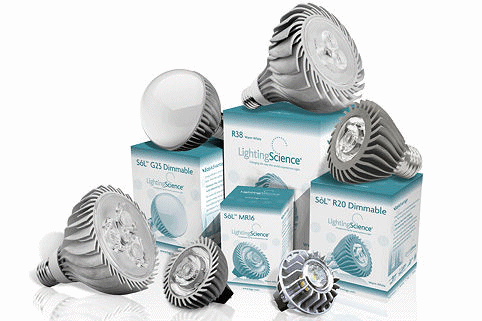 North American Sales
Phone: 877 www LSGC (877.999.5742)
eMail: sales@lsgc.com

Europe Sales
Project Inquiries
Lighting Science Group
10 South Hills
Brill
Buckinghamshire
HP18 9TQ
UK
Phone: +44 (0)7920 746220
Pete Earle pearle@lsgc.com

Luminaire+Lamp Inquiries
Lighting Science Group
Amundsenweg 1
4462 GP GOES
P.O. BOX 66, 4460 AB GOES
The Netherlands
Phone: +31 (0)113 272020
Fax: +31 (0)113 272010
Peter Harteveld p.harteveld@lsgc.com

Asia Sales
All Inquiries
Lighting Science Group
1206 Entrepot Centre
117 How Ming Street, Kwun Tong
Kowloon
Hong Kong
Phone: 852 2151 1232
Fax: 852 3112 3530
Tommy Tang ttang@lsgc.com

Japan Sales
All Inquiries
Lighting Science Group
ST Building
1-2-4 Shibakouen, Minato-ku
Tokyo 105-0011, Japan
Phone: +03 5408 5778
Fax: +03 5408 5779
Yasuko Yamamoto yyamamoto@lsgc.com

Australia Sales
All Inquiries
Lighting Science Asia Pacific (LSGC Pty Ltd)
3/9 Hoyle Ave
Castle Hill, NSW 2154
Australia
Phone: +61 (0)2 9899 8777 (main line)
Fax: +61 (0)2 9899 8177
Ganesh Crumlin: +61 (0)2 9659 5219 (direct line)

g.crumlin@lsgc.com

Liz Ryan: +61 (0)2 9659 5319 (direct line)

Would you like to complete or correct the information on this page? Click here!
News archive:
Jewel-light illuminates the Bryant Park holiday installation (Dec 14, 2009)
Simon and Lighting Science Group Help Turn the Northeast Retail Environment 'Green' (Dec 9, 2009)
Lighting Science Introduces Breakthrough Roadway Lighting Technology (Nov 17, 2009)
LSGC realizes lighting for Club Devo (Nov 13, 2009)
Arizona State University installs LED lighting in parking structures as part of energy conservation project (Aug 7, 2009)
Martin Professional A/S and Lighting Science Group Sign Distribution Agreement (Jun 3, 2009)
Lighting Science Group Sets a New Standard in LED Lighting Technology (May 5, 2009)
Join Eyeleds/Lighting Science at the LightFair '09 Tradeshow and Conference, NY USA (Apr 21, 2009)
Lighting Science Group installs energy-saving fixtures for TXU Energy parking facility (Mar 27, 2009)
Over 32,000 LEDs will power 2009 Times Square New Year's Eve Ball (Nov 17, 2008)
Lighting Science Group acquires Lighting Partner BV creating a new global leader in digital lighting (Apr 22, 2008)
For other relevant searches, you might want to try: Lighting Science Group Corporation, Illumination Technology Center, lamps, Interior Luminaires, Exterior Luminaires, Power & Data Supplies, Controllers.