About Louvers
Louvers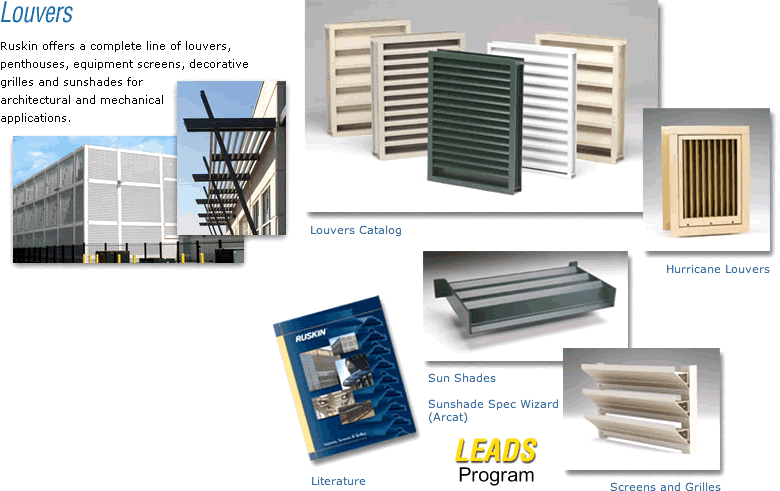 Ruskin has been the leading manufacturer of louvers for over 40 years. Ruskin louvers are designed to provide superior performance and pleasing appearance. They are designed to your specifications, are backed by our experienced engineers and professional staff, and reflect Ruskin's commitment to high quality product standards. Ruskin louvers are:
Available for a variety of applications.
Features like our wind driven rain-tested designs, drainable blade and frame systems, and continuous blade models provide the form and function required for the most demanding louver applications. Available products include extruded aluminum, formed steel, stationary, operable, combination, and acoustical models. Models are available for both standard and special needs, such as high-volume airflow, wind driven rain, special architectural shapes, sight proof, and security applications.
Innovative.
Ruskin has pioneered advanced louvers for the HVAC industry and continues to be an industry leader with modern manufacturing equipment, computer aided design capabilities, and an air performance testing laboratory for research and development. Ruskin was the first manufacturer to receive louver product approval for use in Miami-Dade County, Florida. To gain this approval, louvers must perform severe load tests that simulate hurricane-force winds and flying debris. With other Miami-Dade County and wind driven rain models in development, Ruskin continues to pioneer the design of louvers for severe weather applications.
Durable to the finish.
Ruskin finishes provide both corrosion resistance and beauty to the appearance of louvers. A wide variety of Kynar finishes are available for long life and excellent color retention. Kynar 500 is a superior finish that offers the best overall performance and can be computer formulated in-house to match an almost endless range of custom colors. Ruskin's standard 50% Kynar finish economically provides the same color matching capability and excellent performance. Acrodize Hardcoat is another 50% Kynar finish that furnishes a metallic sheen similar to anodize and metallic paints. All of these now come with a standard 20-year warranty on extruded louvers and are applied in-house in Ruskin's manufacturing facilities ensuring quick delivery. Ruskin also offers clear and color anodizing, prime coat, and epoxy finishes.
Ruskin also manufactures a complete line of Equipment Screens and Grilles. Vertical and horizontal blade configurations are available for a variety of sight restriction or prevention needs. The design of every equipment screen project is fully engineered and accompanied by accurate, CAD-generated installation and assembly drawings.
The information provided on this site covers a selection of our most popular and frequently specified louvers. However, each louver Ruskin manufactures is made to the order of the customer. We have the capabilities to meet any need - including yours! We are committed to quality products with unparalleled customer support.
We invite you to take a closer look at these dampers along with our extensive line of other HVAC products in Ruskin's online product catalog.

Brochures | 3-Part CSI specifications
News archive:
Ruskin Announces HZ700 Louver (Oct 20, 2020)
Extreme Performance Louvers and Grilles from Ruskin (Mar 14, 2015)
Glass Magazine features Ruskin Sunshades (Apr 26, 2011)
New Ruskin Louver Brochure (Nov 19, 2009)
Online Architectural Louvres portfolio (Dec 02, 2008)
Wind-Driven Rain Louvers are the Best Defense Against Water (Oct 04, 2008)
10210 - Wall Louver
10225 - Door Louver
10240 - Grilles and Screen
10705 - Exterior Sun Control Device
10710 - Exterior Shutter
08 91 13 - Motorized Wall Louvers
08 91 16 - Operable Wall Louvers
08 91 19 - Fixed Louvers
08 91 26 - Door Louvers
10 71 13 - Exterior Sun Control Devices
10 82 00 - Grilles and Screens