About Kwik-Stand Warning Line System
Kwik-Stand Warning Line System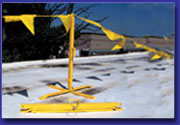 The Kwik-Stand is a hand carried warning line system. The selfcontained design provides for quick set up and removal with no chance of lost parts. The unique spindle mount system gives it rigidity when in use. The handle makes it easy for transporting and hoisting. The Kwik- Stand comes standard with a tough powder coat finish or a galvanized finish to help ensure a rust free product.
The Kwik-Stand has a hole at each end of the support bars. Use for the following:
ON METAL ROOFS - insert the optional extender feet to fit between the ribs of the roof.
ON GRAVEL OR ASPHALT - use stakes to make the stand more secure.

News archive:
Product From BlueWater Mfg.: The Median Clamp (Sep 19, 2013)
10450 - Pedestrian Control Device
11 14 00 - Pedestrian Control Equipment
11 14 13 - Pedestrian Gates
11 14 13.13 - Portable Posts and Railings
11 14 13.16 - Rotary Gates
11 14 13.19 - Turnstiles
11 14 43 - Pedestrian Detection Equipment
11 14 43.13 - Electronic Detection and Counting Systems