About Aluminum Curtain Wall
Brochures

Aluminum Curtain Wall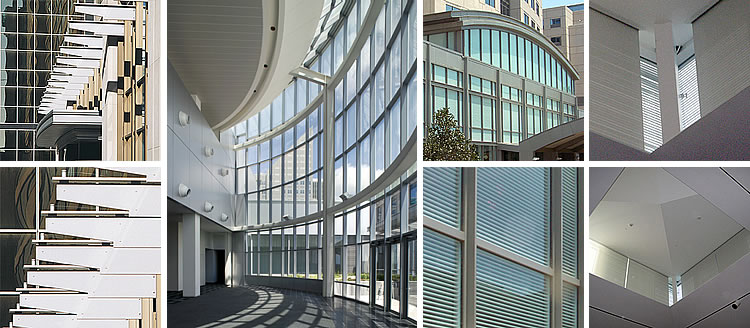 Unicel Architectural manufactures curtain wall systems that can be adapted to a wide array of facades, including those with punched openings and strip windows. To complement the curtain wall, skylights and various glazing systems can also be delivered to match the building envelope.
Made of aluminum profiles with concealed fasteners, our curtain walls feature a rain-screen system that provides proper drainage and ventilation. Thanks to the polyshim sealing joint, the structures are hermetically shielded against air and vapor infiltration. Depending on the project's requirements (thermal efficiency, use of daylight, thermal expansion and contraction, building movement, water diversion etc), Unicel has the ability and knowledge to develop curtain wall structures that meet the highest standards of building efficiency and aesthetics.
Benefits
Sustainable architecture, advanced wind and water performances as well as sound control are the main goals of exterior building envelopes. Two of the most important benefits provided by curtain walls are thermal comfort and energy efficiency of the building. By using Vision Control® units in exterior envelopes, the excessive solar heat decreases, thereby reducing air conditioning and heating equipments.
The rain-screen system provides proper drainage and ventilation to the building. This system allows water to be carefully drained towards the exterior, thanks to the membrane and polyshim sealing joint that provides a hermetic seal.
Thanks to the vast glazing surface and the adjacent fittings (operable louvers sealed between glass panels, exterior sunshade devices etc), daylight is allowed into buildings and then redirected in order to increase the visual and thermal comfort of the building occupants. People working next to the windows don't need to resort to air conditioning to maintain a comfortable indoor temperature.

News archive:
Case Study: F1 Montreal Grand Prix Paddocks (Oct 27, 2021)
Project From UNICEL: California Hospital Makes Patient Safety And Privacy A Top Priority (Sep 12, 2012)
Unicel CEO to present on Green Building Developments (Jan 15, 2012)
Custom Structures From Unicel Architectural (Aug 11, 2011)
Unicel Architectural wins top honors from Interactive Media Awards™ for architect-focused website (Jan 12, 2011)
08900 - Glazed Curtain Wall
08910 - Metal Framed Curtain Wall
08 40 00 - Entrances, Storefronts, and Curtain Walls
08 44 00 - Curtain Wall and Glazed Assemblies
08 44 13 - Glazed Aluminum Curtain Walls
08 44 19 - Glazed Stainless-Steel Curtain Walls