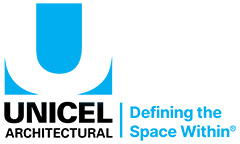 UNICEL Architectural Corp.
All manufacturers

Click here to view the full company information in AECinfo.com.
Specialty Glazing
Unicel has built its reputation on Vision Control®, a unique patented sealed glass unit with operable louvers that provide a wide array of solutions to vision, daylight, heat and sound control, for utmost privacy, hygiene, and security. Thanks...