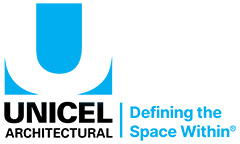 UNICEL Architectural Corp.
All manufacturers

Click here to view the full company information in AECinfo.com.
Curtain Walls
Originally built of stone to protect medieval castles, curtain walls are today an ingenious combination of extruded aluminum and glass, designed to combine aesthetics, natural light and thermal comfort for the building occupants. Unicel...