About Bleachers, Bleacher Seating
Bleachers, Bleacher Seating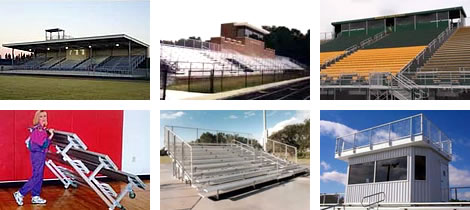 Bleachers, Bleacher Seating!
Do your bleacher seats need a face lift? The physical discomfort of bleacher seats are now a thing of the past with our breakthrough stadium seat designs. Our engineers have developed affordable, attractive, and relaxing stadium chairs to retrofit over existing bleacher seats that will keep people in your seats longer. Our Champion Stadium Seat line offers a variety of options that makes retrofitting uncomfortable bleacher seating easy, affordable, and very comfortable. Our ergonomic Champion Stadium Chairs are more than just a comfortable improvement to the aluminum bleacher bench--they are strong, light, and easy to maintain since they don't crack, or rust, or easily fade. Imagine it: turning a field of bleachers into relaxing arena chairs that look and feel good... and keep people around longer.
Three and four row code bleachers, angle tube/frame bleachers and tip and roll bleachers available.

News archive:
Bleacher Seating (Aug 27, 2008)