About Decorative Concrete Finishes
CAD details

Decorative Concrete Finishes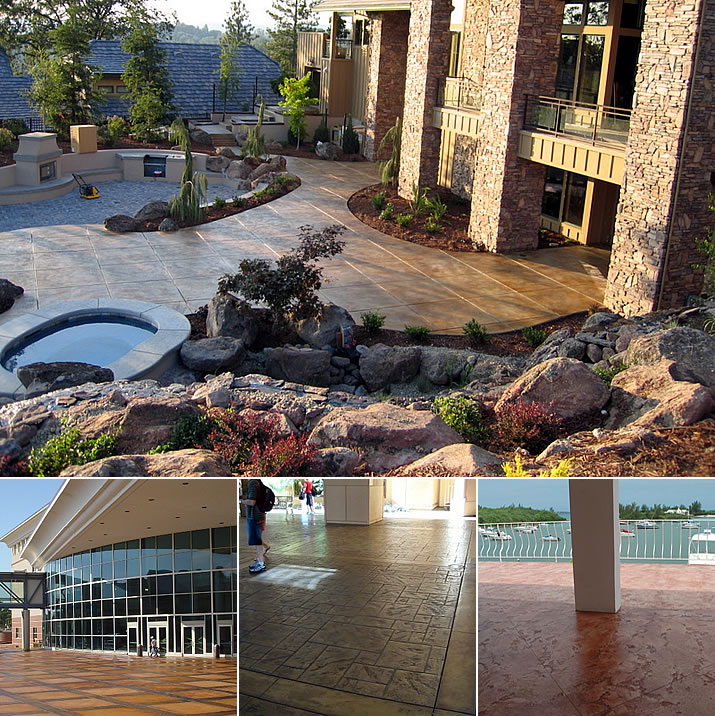 Perform a google search for "decorative concrete" and the results will be staggering. The finishes and applications that are considered decorative concrete have only grown over the past 20 years. There was a time when decorative concrete coating options were limited to paint or a topic stain. Now days, there is virtually no limit to what can be done to concrete to create a decorative concrete coating finish. Here are some of the more popular exterior applications:
Thin Stamped Overlays
Creates the high definition and authentic look of conventional full depth stamped concrete without having to tear out and replace the existing concrete surface. Generally applied between 3/8″ to 1/4″ thick, thin stamped overlays created with TEXTURE-PAVE™ actually have increased strength and performance characteristics as compared to conventional concrete. Colors, patterns and textures are virtually limitless and therefore one reason why architects and property owners find thin stamped overlays one of their favorite applications for exterior and interior projects.
Splatter Texture and Knockdown Finishes
What started out as a spray applied, non-slip coating for pool decks, driveways and sidewalks quickly transformed into one of the staple decorative concrete finishes available. Achieved with THIN-FINISH™, splatter textures and knockdowns can restore existing concrete surface and/or provide the look and feel of brick, stone, tile, etc. at an average thickness of 1/8″.
Slate Trowel Down Finish
These are popular applications before they are easy to install and require the least amount of tools and equipment. Slate trowel down finish is just as it is implied, THIN-FINISH™ applied with a trowel to create random stone or slate textures.
Acid Stained Concrete
Perhaps the most basic and inexpensive form of decorative concrete is simply acid staining with CHEM-STONE™ Reactive Stain. Know that acid stain colors are limited as they are made up from waste metallic salt products dissolved in low hydrochloric acid solutions. Another disadvantage of acid stain is due to the fact that these stains are translucent, any imperfections in the existing concrete surfaces will remain visible.

News archive:
Harley Davidson Dealership Chooses REFLECTOR™ Enhancer Flooring System (Aug 08, 2012)
New Project From Elite Crete: Pizza Restaurant Courtyard (Aug 04, 2012)
Elite Crete: CHEM-STONE™ & HYDRA-STONE™ Combine for a Fantastic Floor (Jun 08, 2012)
Highway 80 Decorative Concrete Project in Alabama By Elite Crete (Sep 27, 2011)
02750 - Rigid Pavement
02760 - Paving Specialties
03150 - Concrete Accessories
03330 - Architectural Concrete
03350 - Concrete Finishing
03360 - Concrete Finishes
03530 - Concrete Topping
09610 - Floor Treatment
09620 - Specialty Flooring
03 15 00 - Concrete Accessories
03 33 00 - Architectural Concrete
03 35 00 - Concrete Finishing
03 35 13 - High-Tolerance Concrete Floor Finishing
03 35 19 - Colored Concrete Finishing
03 53 00 - Concrete Topping
09 61 00 - Flooring Treatment
09 61 13 - Slip-Resistant Flooring Treatment
09 61 36 - Static-Resistant Flooring Treatment
09 62 00 - Specialty Flooring
09 96 56 - Epoxy Coatings
32 13 13.13 - Exposed Aggregate Concrete Paving
32 13 13.16 - Power-Compacted Concrete Paving
32 13 13.19 - Prestressed Concrete Paving
32 13 16 - Decorative Concrete Paving
32 13 16.16 - Roller-Compacted Concrete Paving
32 13 16.23 - Stamped Concrete Paving
32 17 23.13 - Painted Pavement Markings
32 17 23.23 - Raised Pavement Markings
32 17 23.33 - Plastic Pavement Markings