About Garage Floor Coatings
3-Part CSI specifications

Garage Floor Coatings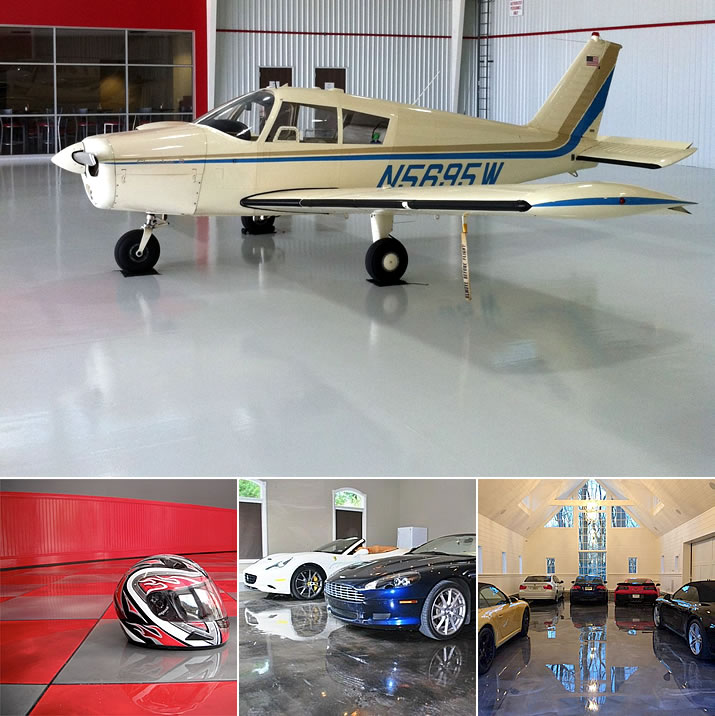 Stop and take a look at your garage floor for a minute. It's ridiculously dirty, stained, damaged ugly and unsightly… Why have you let it get that bad? Isn't it time to protect your garage floor and your investment?
With garage floor coatings from Elite Crete Systems, we can provide your garage with a durable, stain resistant finish that will increase the value of your home for less than you think. These coatings are NOT a paint or a do-it-yourself low quality epoxy. Instead, our epoxy garage floor coatings are made of professionally formulated, 100% solids epoxies, urethanes and polyaspartic resins. Our epoxy floor coatings are engineered to be tough, good looking, non-slip and long lasting for years to come.
With colors, design and patterns near limitless, we can go from mild to wild with multiple colors, custom logos, the ever popular racing checkerboard and so much more. All with ultimate durability being the main objective.
Benefits of Our Garage Floor Coatings:
NOT a paint of cheap epoxy kit like other similar looking finishes that are temporary
Virtually unlimited designs, patterns, color options and even custom logos
Complete project customization
Extreme durability for high traffic areas
Highly resistant to deicing salts, water, petrochemical spills and other contaminates
Very low maintenance compared to other finishes
Quick installation time
VOC free options – being "green" is important to us
Can be installed pre or post construction
For new or existing garage floors – even those in need of repair

News archive:
Existing Concrete Doesn't Have To Remain GRAY (Mar 29, 2012)
02750 - Rigid Pavement
02760 - Paving Specialties
03150 - Concrete Accessories
03330 - Architectural Concrete
03350 - Concrete Finishing
03360 - Concrete Finishes
03370 - Specially Placed Concrete
03530 - Concrete Topping
03910 - Concrete Cleaning
03920 - Concrete Resurfacing
03930 - Concrete Rehabilitation
09610 - Floor Treatment
09620 - Specialty Flooring
03 01 30 - Maintenance of Cast-in-Place Concrete
03 01 30.51 - Cleaning of Cast-in-Place Concrete
03 01 40 - Maintenance of Precast Concrete
03 01 40.51 - Cleaning of Precast Concrete
03 15 00 - Concrete Accessories
03 33 00 - Architectural Concrete
03 35 00 - Concrete Finishing
03 35 13 - High-Tolerance Concrete Floor Finishing
03 35 19 - Colored Concrete Finishing
03 37 00 - Specialty Placed Concrete
03 53 00 - Concrete Topping
09 61 00 - Flooring Treatment
09 61 13 - Slip-Resistant Flooring Treatment
09 62 00 - Specialty Flooring
32 13 13.13 - Exposed Aggregate Concrete Paving
32 13 13.16 - Power-Compacted Concrete Paving
32 13 13.19 - Prestressed Concrete Paving
32 13 16 - Decorative Concrete Paving
32 13 16.16 - Roller-Compacted Concrete Paving
32 13 16.23 - Stamped Concrete Paving
32 17 23.13 - Painted Pavement Markings
32 17 23.23 - Raised Pavement Markings
32 17 23.33 - Plastic Pavement Markings