About Modular
Modular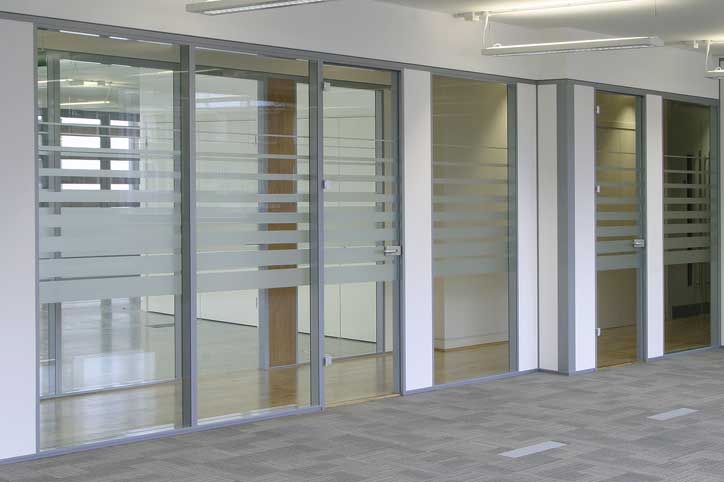 Transverso™ Monoblock Modular Partition System
---
The Transverso™ Monoblock Modular Partition System offers pre-assembled units that quickly go into place and allow you to use your newly created space in record time. The pre-assembled units reduce site labor costs as well as material waste. The system allows the use of gypsum board without the mess of joint compounds and sanding. It also allows for the use of glass, wood, laminates, melamine facings and vinyl.
The Transverso™ Modular Monoblock Partition System is fully demountable. It's components contain recycled material and are infinitely recyclable.
The System meets LEED Characteristics:
LEED 2009 (v3): MRc3, MRc4, MRc5, MRc7, EQc4.2, EQc8.1 and EQc8.2.
LEED v4: MRc1, MRc3, MRc4, MRc8, EQc2, EQc7 and EQc8.
Maximum Glazing Panel Width: 60″
Maximum Glazing Panel Height: Full Height up to 16′-0″
Glazing Available: Double Glazed 1/4″ Clear tempered or Clear laminated
Available Glazing Types: Clear Tempered, Low Iron, Laminated & LCD Privacy Glass
Frame Finishes Available: Aluminum Stainless Steel, Polyester powder coated RAL Colors (Jet Black, Silver, Grey & White)
Panel Options: Glass, Gypsum Board, Wood Veneer, Laminates, Melamine Facings, & Vynyl
STC Rating: 45 (Glass Wall), 47 (Solid Wall)

Brochures | 3-Part CSI specifications | CAD details
06 40 00 - Architectural Woodwork
06 70 00 - Structural Composites
08 10 00 - Doors and Frames
08 11 00 - Metal Doors and Frames
08 12 13.13 - Standard Hollow Metal Frames
08 14 16 - Flush Wood Doors
08 14 33 - Stile and Rail Wood Doors
08 15 13 - Laminated Plastic Doors
08 30 00 - Specialty Doors and Frames
08 32 00 - Sliding Glass Doors
08 32 13 - Sliding Aluminum-Framed Glass Doors
08 32 16 - Sliding Plastic-Framed Glass Doors
08 32 19 - Sliding Wood-Framed Glass Doors
08 34 00 - Special Function Doors
08 34 53 - Security Doors and Frames
08 34 58 - File Room Doors and Frames
08 41 26 - All-Glass Entrances and Storefronts
08 42 26 - All-Glass Entrances
08 43 26 - All-Glass Storefronts
08 44 26 - Structural Glass Curtain Walls
08 45 23 - Fiberglass-Sandwich-Panel Assemblies
08 50 00 - Windows
08 71 00 - Door Hardware
08 80 00 - Glazing
08 81 00 - Glass Glazing
08 81 13 - Decorative Glass Glazing
08 83 13 - Mirrored Glass Glazing
08 85 00 - Glazing Accessories
08 88 36 - Switchable Glass
08 88 36.16 - Electronically Controlled Switchable Glass
08 88 56 - Ballistics-Resistant Glazing
09 81 00 - Acoustic Insulation
10 22 00 - Partitions
10 22 19 - Demountable Partitions
10 22 19.13 - Demountable Metal Partitions
10 22 19.23 - Demountable Wood Partitions
10 22 19.53 - Demountable Gypsum Partitions
31 66 16.33 - Manufactured Modular Foundation Walls
32 32 23.16 - Manufactured Modular Walls