Effective concrete crack sealing test at Concremat in Brazil
At a recent Rose Garden press conference, President Obama underlined the need to use waterproof concrete technology - an innovation that can extend the life of concrete roads, bridges and buildings by 20 to 30 years, beneficial to shovel-ready projects such as those in his economic stimulus plan.
"When you hear the innovation that's taking place... "new concrete materials that last longer and are waterproofed from the inside out, and that can mean that bridges and roads and buildings can last 20 or 30 years longer than using conventional concrete"... that gets you excited about the future." President Obama, Whitehouse, July 2, 2009
President Obama underscored what we have known for decades, that waterproofing concrete from the inside can extend a structure's working life for 20 to 30 years (click here for full transcription). It is widely known in the concrete industry that waterproofing concrete is done largely by sealing cracks, which are very much a part of concrete life. Penetron products will self-heal cracks in concrete subjected to water pressure throughout its working life and will protect it from corrosion and strength loss, significantly extending the durability of its structural integrity.
In an effective crack sealing test that was recently done at Concremat in Brazil, where Penetron is now a member of IBRACON (The Brazilian Concrete Institute), two identical concrete samples were prepared, one with the addition of 1% Penetron Admix, and the other without Penetron Admix. Each had a perforated PVC tube cast inside, capable of delivering water pressure throughout the samples. Both samples then had artificial cracks induced by applying the same pressure.
The samples were then subjected to a water pressure of 1.5 MPa for eight weeks and the water flow through the cracks was monitored. Following results were obtained: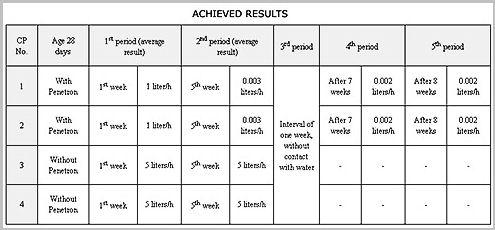 The results indicated that the Penetron Admix treated sample was able to reduce water flow through the cracks from 1 liter per hour during the first week to 0.003 liters per hour after the 5th week. No crack healing was observed on the untreated sample.

For other relevant searches, you might want to try: