News

Project: Olymp & Hades at the City Center in Essen
Olymp & Hades Textil GmbH is part of the Görgens Group. It is a family business with well-known German fashion brands such as Olymp & Hades, KULT and Jeans Palast ("Jeans Palace"). The company has more than 50 years of history and owns more than 70 fashion stores.
On Oct 8, 2009, only 1.5 years after construction began, Görgens celebrated the re-opening of the Olymp & Hades fashion store in the future City Hall Gallery in Essen. On over 2,000 m² of retail space, highly trendy brand ware is presented in attractive retail furniture.
A long spacious escalator provides access to the store located on the first floor. 430 Eyeleds ColorEye® built into the side walls create an efficient and moody lighting. Programmed running lights in various color scenarios draw the visitor's attraction and guide them to the store entrance on their escalator ride.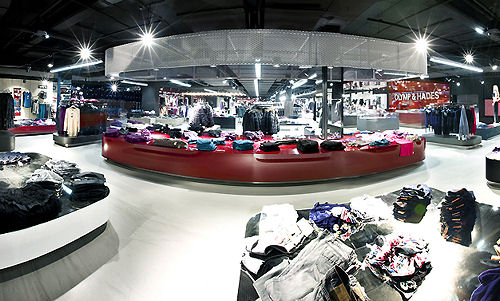 Architect
Corneille Uedingslohmann Architekten
Konrad-Adenauer-Ufer 83D
50668 Cologne
Germany
Phone +49 (0) 221 355 537 - 0
Fax +49 (0) 221 355 537 – 27
info@cue-architekten.de
www.cue-architekten.de
Installations
Dettmer GmbH
Innenausbau – Ladenbau
Spangerstraße 36
40599 Düsseldorf
Germany
Phone +49 (0) 211 974730
Fax +49 (0) 211 97473- 26
Planning/Programming
Lichtpartner Willingen GmbH & Co. KG
In der Bärmecke 5a
35408 Willingen
Germany
Phone +49(0) 5632-968190
Fax +49(0)5632-968191
info@lichtpartner-Willingen.de
Insta Elektro GmbH
Wefelshohler Straße 35
58511 Lüdenscheid
Germany
Phone +49 (0) 2351 936-0
Fax +49 (0) 2351 936-1260
vertrieb@insta.de
www.insta.de
For other relevant searches, you might want to try: