About Pocket Doors
Pocket Doors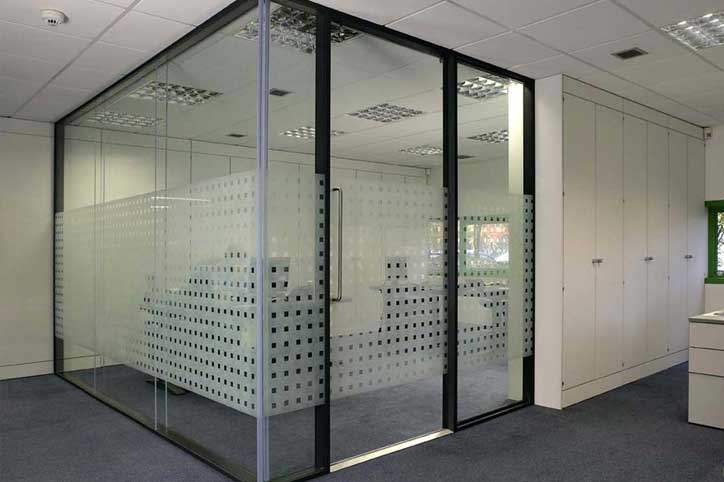 Eclipse™ Sliding Glass Pocket Doors
---
The Pocket Sliding Glass Door slides smoothly into our Solare™ Double Glazed Partition System or a solid traditional wall offering a space saving, ultramodern interior entryway, pleasing to the eye.
Tempered, laminated and low iron glazing is compatible with the door, and may be clear, patterned or have a custom graphic. The Glass Pocket Door fits into straight or curved configurations. A pair of Glass Pocket doors is also an option for wider entryways. Our 48" stainless steel pull handle comes standard with each door. Lockable pull handle hardware is also available. Each pocket door system includes stainless steel components and a floor track for door location. Available frame finishes include our standard polyester powder coated finish (RAL color choices), Brushed Finish and Stainless Steel Finish. Custom finishes are also available.
The Pocket Sliding Glass Door is completely compatible with all of our systems which are fully demountable, which qualify for LEED credits.
Highlights: 4″ Stainless Steel handles are standard, Locking mechanisms are available, Curved applications are available, Floor track for the door location, top hung door rollers
Glazing Available: 3/8″ & 1/2″
Available Glazing Types: Clear Tempered, Low Iron, Laminated & LCD Privacy Glass
Standard Frame Finishes Available: Standard RAL 9006 and Clear Anodized. Custom Color Powder Coating Available
Integration: The Sliding Glass Pocket Doors slide smoothly into any of our double glazed wall systems. It retracts between the fixed panels for an ultra-modern entryway.
Brochures | 3-Part CSI specifications | CAD details
News archive:
Eclipse Pocket Doors from Avanti Systems (Nov 01, 2019)
Eclipse Glass Pocket Doors (Nov 16, 2016)
06 40 00 - Architectural Woodwork
06 70 00 - Structural Composites
08 10 00 - Doors and Frames
08 11 00 - Metal Doors and Frames
08 12 13.13 - Standard Hollow Metal Frames
08 14 16 - Flush Wood Doors
08 14 33 - Stile and Rail Wood Doors
08 15 13 - Laminated Plastic Doors
08 30 00 - Specialty Doors and Frames
08 32 00 - Sliding Glass Doors
08 32 13 - Sliding Aluminum-Framed Glass Doors
08 32 16 - Sliding Plastic-Framed Glass Doors
08 32 19 - Sliding Wood-Framed Glass Doors
08 34 00 - Special Function Doors
08 34 53 - Security Doors and Frames
08 34 58 - File Room Doors and Frames
08 41 26 - All-Glass Entrances and Storefronts
08 42 26 - All-Glass Entrances
08 43 26 - All-Glass Storefronts
08 44 26 - Structural Glass Curtain Walls
08 45 23 - Fiberglass-Sandwich-Panel Assemblies
08 50 00 - Windows
08 71 00 - Door Hardware
08 80 00 - Glazing
08 81 00 - Glass Glazing
08 81 13 - Decorative Glass Glazing
08 83 13 - Mirrored Glass Glazing
08 85 00 - Glazing Accessories
08 88 36 - Switchable Glass
08 88 36.16 - Electronically Controlled Switchable Glass
08 88 56 - Ballistics-Resistant Glazing
09 81 00 - Acoustic Insulation
10 22 00 - Partitions
10 22 19 - Demountable Partitions
10 22 19.13 - Demountable Metal Partitions
10 22 19.23 - Demountable Wood Partitions
10 22 19.53 - Demountable Gypsum Partitions